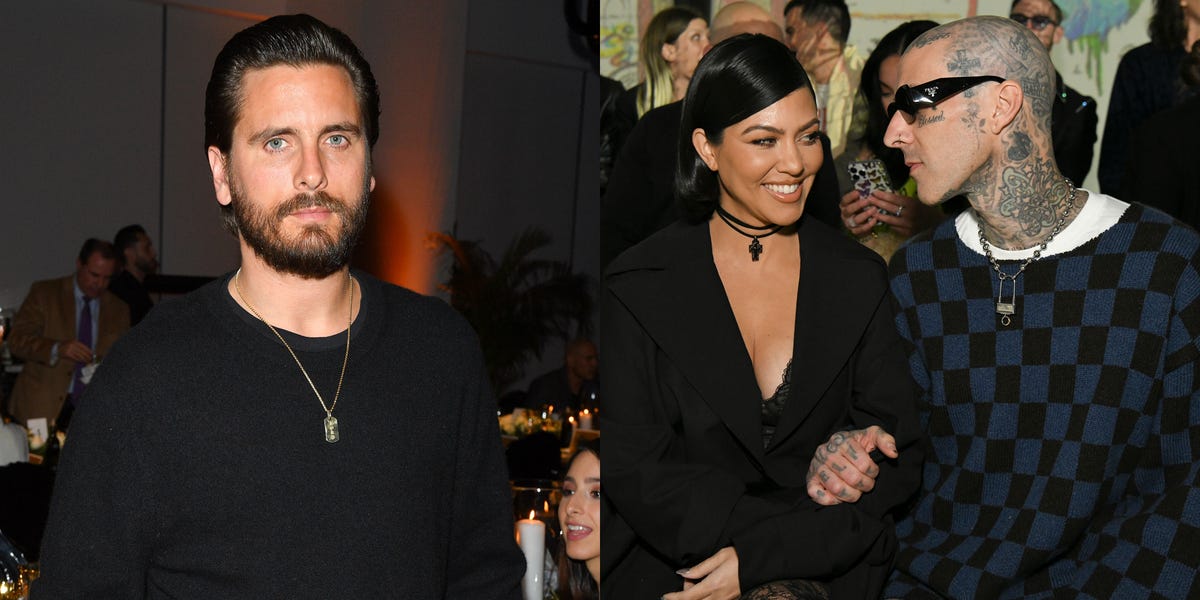 It would be easy to make a full-time hobby out of making predictions about Kourtney Kardashian and Travis Barker's upcoming wedding. One of the biggest questions hanging over the ceremony? The guest list—and specifically, if Kourt's ex, Scott Disick, will be on it.
The answer: It depends. And what does Scott's RSVP status depend on, exactly? Whether or not the event will be filmed for The Kardashians, apparently.
That's not to say that cameras rolling on the wedding is a guarantee that Scott will make it out for the big day, but it sounds like if they aren't, he'll almost certainly be a no-show.
"It would definitely be awkward if Scott was at the wedding," a source close to the Kardashian fam told Us Weekly. "If it's filmed for sure, then he might there." And if not? Scott might "want to stay far away from witnessing" the nuptials.
This tracks with the other reports we've heard about Scott's feelings about the wedding.
"Scott is not thrilled about the idea of Kourtney and Travis getting married and is still processing it," a source told Entertainment Tonight in January. "Kourtney and Scott have been getting along just fine. There's no bad blood and balancing time with the kids has never been a huge issue for them."
For his part, Travis is reportedly "cordial" with Scott, who is the father of Kourtney's three kids, Mason, 12, Penelope, 9, and Reign, 7, and "doesn't go around trash-talking and would never be caught publicly dissing him because of Travis' relationship with the kids," a source previously told Us Weekly.
Kourtney and Travis haven't said whether or not they'll invite The Kardashians cameras to document their big day, but since they're reportedly looking to tie the knot this spring, answers about all things Kravis Wedding can't be far away.
This content is created and maintained by a third party, and imported onto this page to help users provide their email addresses. You may be able to find more information about this and similar content at piano.io