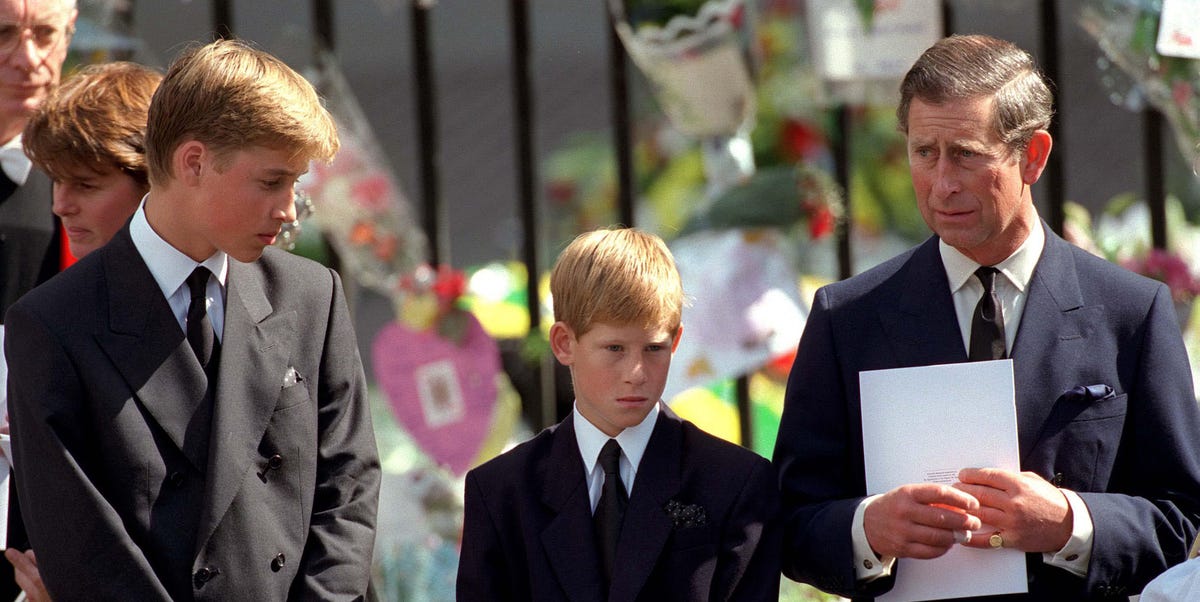 In 1997, Princess Diana's death left people around the world reeling. The tragedy also marked a major shift for the royal family, who were left to grieve in the public eye—and did so in a way they hadn't in the past. Even today, the royals (especially the older generations) aren't known for being super emotional and open about their feelings, but in the wake of Diana's death, their grief was obvious and, in some cases, played out in public.
In a new interview with Us Weekly, royal expert Matt Robins, who produced CNN Original's Diana six-part documentary series, opened up about the impact Diana's death—and coping with it under the public eye—had on her ex-husband, Prince Charles.
"I think by the end of Diana's journey, I see [Charles] as grief-stricken," Robins said. "I see him as somebody who carried an enormous burden through her death and her funeral, somebody [who] has to make impossible decisions."
One of those decisions was the one to have his then 15- and 12-year-old sons, Prince William and Prince Harry, walk in their mother's funeral procession. Many have criticized the decision, including Harry, who told Newsweek in 2017 that he didn't think he should have been put in that position.
"My mother had just died, and I had to walk a long way behind her coffin, surrounded by thousands of people watching me while millions more did on television," he said. "I don't think any child should be asked to do that, under any circumstances. I don't think it would happen today."
"You know, he has been criticized for the fact that [his sons William and Harry] walked alongside him [during the procession], but what do you do, and how many of us would make the perfect call every time, where the eyes of the world [were] upon us?" Robins added of Charles' decision regarding the procession.
Harry did later tell the BBC that "looking back on it," he was glad to have been a part of the funeral procession and praised his father's handling of the difficult time.
"One of the hardest things for a parent to have to do is to tell your children that your other parent has died," Harry said later in 2017. "How you deal with that I don't know but, you know, he was there for us."
Robins also spoke to Us Weekly about the larger impact of Diana's death on the royal family and their relationship with the public.
"I think [how they handled her death] does change everything," he said. "I think it has been talked about a lot, but I would say I'm more interested in the smaller ways that it changes the family: I don't believe there's some overnight transition where they hire the best PR firm in the world and change their methods of behavior. … I think they probably learned for the first time, just how emotionally connected people are to them. They feel that surge of emotion, you know, just the way I think in the final episode we talk about the wave of applause that comes through Westminster Abbey after the eulogy, that has a tidal wave of emotion. And it would be impossible not to be affected by that as a human being."
If you want to dive deeper into Diana's story, you can check out Diana, on Sundays at 9 p.m. ET on CNN (or stream the whole thing on CNN On Demand, if that's a thing you have access to).
This content is created and maintained by a third party, and imported onto this page to help users provide their email addresses. You may be able to find more information about this and similar content at piano.io