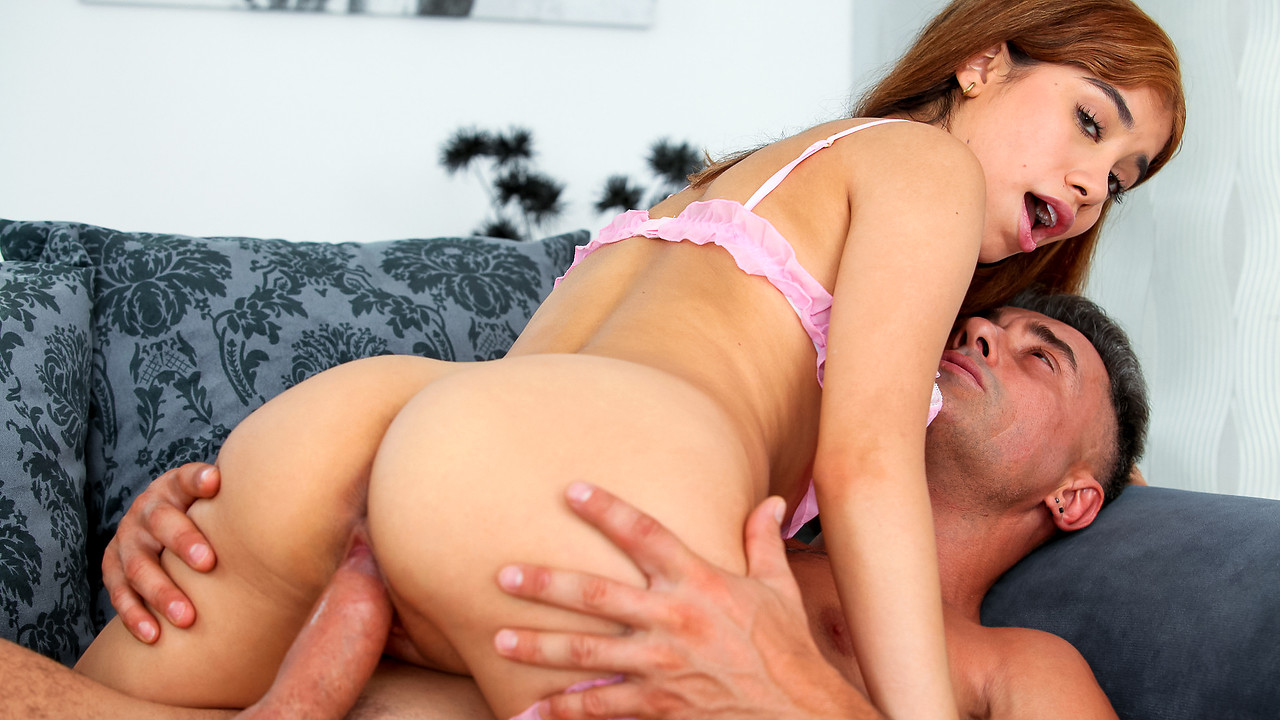 featuring Marina Gold and Murgur.
Added On:
Jan 20, 2022
Description:
Marina Gold and Murgur have recently moved in together, and Marina is both loving and hating the tension between them. She just can't help but notice how hot Murgur is. She wants him, more so every time she accidentally (or on purpose) catches a glimpse of Murgur's toned body. After spying Murgur in the shower and seeing that his big dick matches the rest of him, Marina decides that she's going to tap that no matter what.
Dressing in a crop top and shorts that barely cover more than a pair of panties, Marina goes to the kitchen where Murgur is reading the paper. She tries to get his attention in a variety of ways, none of which seem to work. That's okay; she's got plenty of patience and she's not about to get distracted now that she has a sexy goal to work towards.
Later, Marina dons a hot bra and panty lingerie set that really highlight all her teen curves. She sneaks up behind Murgur and covers his eyes in a playful guess who moment. Once Murgur lays eyes on his hot roomie, he tries so hard to get her to cut it out. Marina responds to Murgur's serious talk by pressing her advantage. She crawls into his lap and silences Murgur's protests with a kiss. Continuing his protests, Murgur attempts to deescalate the situation, but by this time Marina has her hand on his dick and can feel that he's nice and hard for her.
Pushing her roommate backwards, Marina demonstrates that she's oh so eager to take charge. She pops Murgur's hardon out of her pants to really get him into the mood by stroking him with her soft little hands. Leaning forward, she licks him like her favorite treat and then cheerfully goes to work sucking him down in a hot and heavy BJ. Murgur has mostly capitulated by the time Marina crawls up his body and sinks down on his fuck stick to ride him in doggy, but she silences any remaining protests by shoving her firm titties into his face so he can suck her nipples.
Turning around, Marina lets all pretense of soft and sweet fall away as she plants her feet to either side of Murger and rides him in reverse cowgirl. Her ass gently hits Murgur's pelvis as she goes to town in a fast and furious ride, right up until the moment he slides his hands beneath her ass to help her set the pace even better. With Murgur's hands in just the right place, Marina can lift her feet and let him do all the work while also supporting her.
With Murgur fully on board with his new relationship with his roommate, Marina falls to her side and cuddles into him to let him spoon with her. Their romp gets even hotter as Marina positions herself on her hands and knees. Murgur gets on his knees behind her to give it to her in doggy, a hard pussy pounding that makes all of Marina's hottest dreams come true.
Nearly sated, Marina rolls onto her back and spreads her thighs to welcome Murgur back inside. He keeps one of Marina's thighs pushed back to really open her up so he can dominate that teen twat one last time. Once he has ensured that Marina is well sated, Murgur pulls out to cover her belly in his hot love. They both seem to agree that this new aspect of being roommates is mutually satisfying in the nicest possible way.