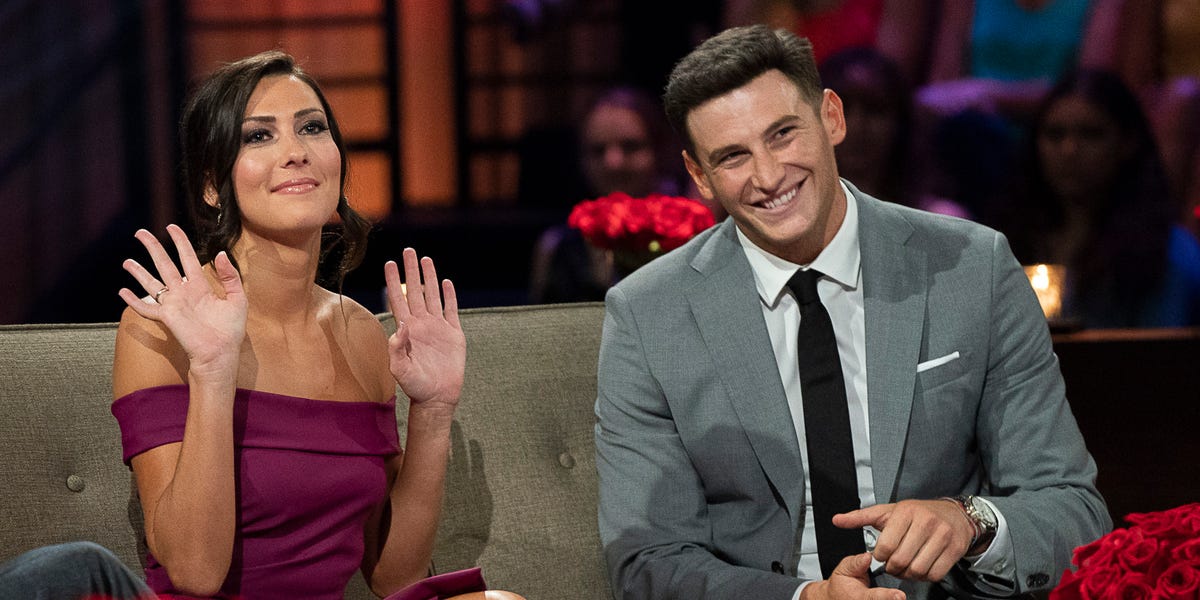 Becca Kufrin would like to correct the record when it comes to her and Blake Horstmann's pre-Bachelor in Paradise status.
ICYMI, Blake recently did an interview for the Real Life with Kate Casey podcast in which he revealed he and Becca had been talking before she left for her stint on the current season of BiP and said that he "would be willing to talk" to her about possibly rekindling their romance (Blake was the runner-up on Becca's season of The Bachelorette in 2018).
Now we're getting Becca's side of things, and they are very different than Blake's take on the whole situation. The former Bachelorette said her phone "was blowing up" the day Blake's interview dropped because, well, yeah. Obviously everyone in Becca's life was texting and calling with some variation of "Umm…WUT?"
"I've seen all of the articles out there that are circulating. Listen, Blake and I have always been friends. We've always been very supportive of one another," she explained during a podcast inty of her own (on the Click Bait with Bachelor Nation podcast). "In terms of the talking, quote-unquote, yeah, I mean, we've been in touch very sporadically, but nothing that I would say would [indicate anything romantic]. I think it sounds very misleading. That conversation he had seemed very misleading."
That misleading convo included Blake implying that their potential romance hinged on her decision to go to Paradise:
"We did kind of chat here and there, and we were back in touch within the last, like, six months," Blake said, adding that "it kind of came down to if she was going to do Paradise or not."
A claim that the Bachelor Powers That Be were against them as a couple:
"The show doesn't like me, the show doesn't want to see us together," he said, adding that Bachelor Nation was "kind of her life" right now. "She has, like, the ABC podcast [Bachelor Happy Hour]. That's kind of her thing. She is very much involved in that show. We'll see."
And a firm declaration of his love for her (on The Bachelorette at least):
"I was in love, and I'm not afraid to admit that," he said. "I think some guys also—and women, for that matter—have a sense of pride like, 'No, I wasn't in love because I got dumped,' or whatever, like, 'I wasn't really in love.' I'm comfortable enough to be like, 'I was in love. And I got dumped, and that happens.' But no, I definitely thought she was the one, and it just didn't work out."
In her interview, Becca kept it classy and made it clear that she's not disputing having contact with Blake—just the implication that said contact has been romantic.
"Like I said, Blake and I have always been on great terms," she said, according to People. "We've been friends for a while. It's no shock because, like, I've done his podcast. He came on my tour when I was touring for a few shows. So nothing romantic [happened] that I think people should be running with right now, if that makes sense."
Yep. Makes sense.
This content is created and maintained by a third party, and imported onto this page to help users provide their email addresses. You may be able to find more information about this and similar content at piano.io